5 Office Décor Trends of 2020 to Improve Productivity and Employee Welfare
'Liven up your employees' 9-6 at the office while taking care of their well-being with these office decor trends of 2020.'
As community cases of Covid-19 remain low in Singapore, authorities announced that more employees will be allowed to return to the workplace from September 28th 2020. While employees are not back to full capacity in the office, consider using this time to make small steps to revamp your office space!
When we think of offices, we no longer think of depressing dull coloured office cubicles. Take a look at Verizon Media's Singapore office below! It is no secret that employee productivity and performance is strongly correlated to their well-being. And what's the largest factor of employee well-being? That's right, it's the physical workspace. One of the largest factors of well-being is physical workspace.
Verizon Media, Singapore office. Source
You don't need to do a major office overhaul… Try out these simple office trends to boost employee productivity and mood in your workspace!
#1 Green Wall & Plants
Vertical Green Wall. Source
Besides adding a pop of colour and texture in the office, a green wall provides other benefits such as improved air quality, stabilized humidity levels and stress reduction. The colour green has also been known to "heal" your eyes, an absolute necessity after endless hours of looking at computer screens. On the visible colour spectrum, green is close to the middle of the spectrum. It is at this wavelength our perception is at its best, which means it's the easiest for our eyes to comprehend. Some scientists and researchers believe that the shade of green may calm one down.
If you think a vertical green wall is too costly (or if you have space constraints), consider getting hanging or potted plants instead!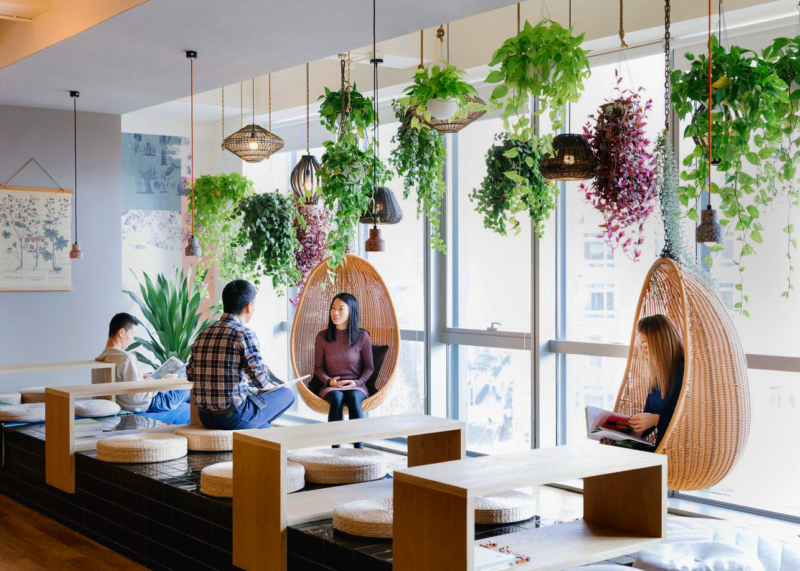 Hanging Plants. Source
Smaller plant installations like these require little to no setup and reap the same benefits as a vertical green wall. According to a study by the Department of Psychology at Central Michigan University, Workers exposed to natural elements in the workplace report higher satisfaction with their work, better moods and increased commitment. Therefore, try to incorporate more natural elements into the workspace.
#2 Neon Sign
Neon signs were traditionally used outside brick-and-mortar stores to attract customers. Now, they're used for almost every purpose and in every space, from bars and cafes to homes and even offices.
JustCo coworking space, made for Beyond Expeditions' office by NeonLife. Source
A neon sign in the office will add refreshing visual appeal by adding a pop of colour to the workspace. It's important not to go overboard when using neon colour schemes in the office. Make sure that the design and colour of the sign are neutral or in line with your company's branding. Get a custom neon sign with your company's logo or go for an inspirational quote in neon! While you're at it, why not combine trend #1 and #2 together?
The Travel Intern's office in Singapore, made by NeonLife. Source
That's right, a customized neon sign against a vertical green wall is more common than you would think. Apart from the improved living plants bring, the shade and texture of the green wall provides an excellent background for the neon sign and works for almost every colour.
The space where the neon sign is can be turned into the designated photo wall where employees can take farewell or congratulatory photos and promote the company as well. It's no doubt that a neon sign in the office will add an element of fun and improve the moods of the staff.
#3 Height-Adjustable Desk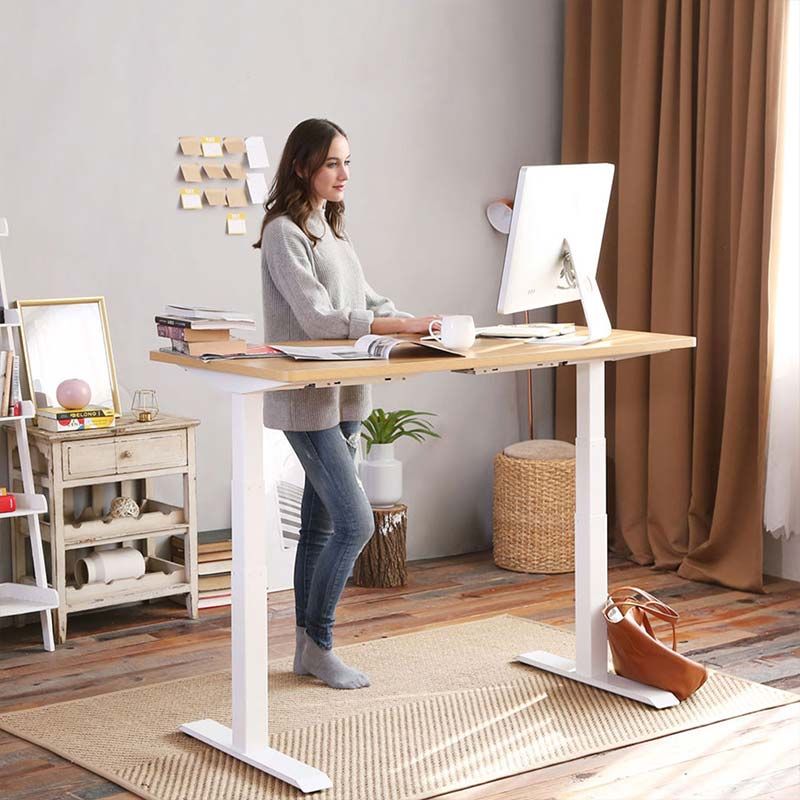 Height-Adjustable Desk. Source
Sitting down for hours, even if your desk chair is integrated with a good posture-promoting backrest, is not good for the body. The human body was designed for motion and thus, employees need to have a lot more movement to be productive and healthy.
A modern solution to this is the height-adjustable desk. This desk allows employees to stand and stretch, while still working on their projects. Other than improved movement and blood circulation, standing desks reduce back pain, prevent unhealthy weight gain and reduce blood sugar levels. A full list of benefits can be read here. These desks have also been in the market for a while now, which means you can choose from various colourways and designs that best suits your space and preferences.
#4 The Right Colours
Colours have known to be associated with emotions. For example, red typically represents love, anger or passion while white and washed out colours reflect a sort of bleakness. So, the colours used in the office can affect the way you'll feel in it. Instead of having your walls repainted or furniture replaced, experiment with more minor elements! For example, add a coloured poster or painting!
Interior design company, Wilson Associates office, Singapore. Source
Cooler tones are good for relaxation while warmer and more striking tones are more for high energy, more dynamic environments. You can also incorporate the company's colours into the workspace to emphasize your professional identity.
#5 Practical and Elegant Storage
Office with well organised, colour-coded storage boxes. Source
Clutter in the office is a work-related turn-off. It may stress out and overwhelm employees, resulting in a lack of productivity. The reason for clutter is usually the lack of storage, which can be easily fixed. There are many options for practical and stylish storage ranging from simple boxes with lids to stacked drawers, shelves and many more. Take a look at your needs and space constraints when deciding on the kind of storage space you would need for your office. Colour-code your files and boxes according to its purpose easy referencing and visual appeal!
At Neonlife.store, we understand how décor can enhance moods and spaces. We've customised unique and wonderful neon signs for our clients across walks of life from major hotel chains to F&B outlets, homes, weddings, fitness centres, and corporate offices. We are a team of skilled designers and LED neon craftsmen that keep the craft creative and original. We ensure to keep the process hassle-free for you through a three-step process. We'll be glad to craft the perfect, relevant neon sign that caters in the best look and right mood. Feel free to reach out to the Neon Life Team at +65 90888270/ hello@neonlife.store.