5 up-and-coming home trends every Singaporean loves
'How home-décor is redefined to adopt aesthetics and utility'
'Fads' in home décor had been moving so fast – until now. Home décor in 2020 is here to stay and not a mere fad. 2020 has redefined the idea of 'trends' to go beyond simply eye-boggling design to include utility and ease. With the looming pandemic, a lot had changed even in the home décor front.
The time duration we spend at home almost tripled. We spend most weekends at home. We work from home. Most of us live with our families at home. In this light, home décor needs a serious upgrade mode. It needs to work as a weekend-fix, work-from-home fix while making optimal space usage. After all, a home needs to reflect comfort for this challenge-packed era.
With compact yet trendy desk setups to inviting neon lights, let's look at the best up-and-coming home trends that are being adored in Singapore in 2020:
#1 Rattan Furnishings to sit back and relax
Rattan speaks 'laidback'. And don't all of us want a bite of this 'laidback' bacon? Staying at home during lockdowns has mainly been about work, home chores and repeat. We all eagerly await the 'laidback' intervals..
Rattan furnishings help to take us towards that interval. Firstly, it's quite lightweight to be carried around from room to room. It can work as your work chair, be placed in the kitchen to manage excessive vegetable chopping, or transform into your movie-chair for a weekend night. It's long-lasting while boasting of its chic bohemian look. Right from living rooms, bedrooms to even the kitchen, rattan furniture is simply simple, light and elegant.
#2 Neon lit signs to bring in weekend vibes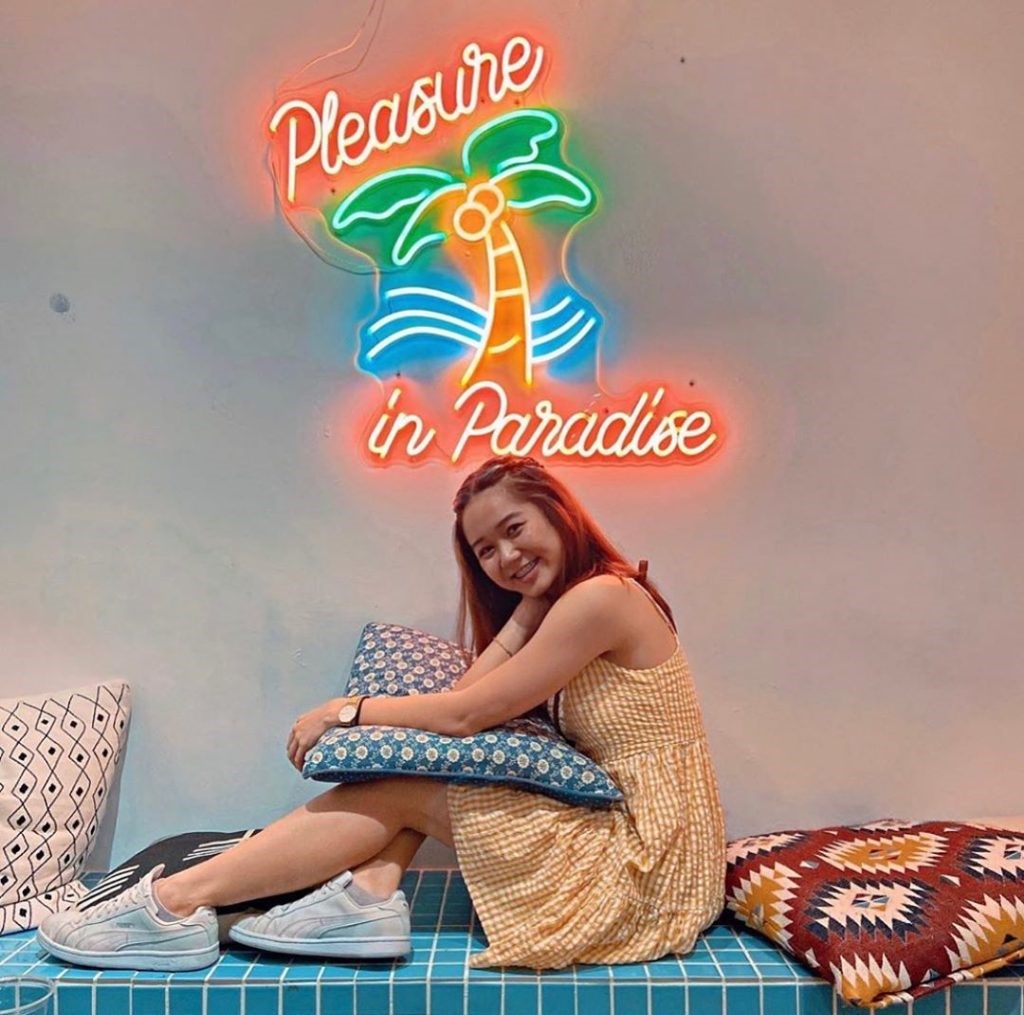 Neon signages are bringing the outing and weekend vibes right in the comfort of your home. LED neon lights are in the spotlight to ensure your home sparks joy, relaxation and vibrancy. After all, you deserve it after each day's grind. These are among the few décor items which don't take up a lot of living space as they lay on the walls.
Traditionally, associated with night clubs, bars or karaoke restaurants; these are now being customised for home setups. The cool aspect is that they can fit almost within any home's style. If your home is an industrial themed one, a contrasting colour of neon signage can add a vibrant pop to the space. If it's a couple's bedroom, then a neon sign of a quote (same hue as wall colour) by the bedside or dressing table can deliver a high-end appeal. If you're missing working out in the gym, placing a neon signage in your work-out nook can help you get in the mood for a beastly session.
Right from a motivational phrase, to a whacked-out signboard of Elvis Presley, or a family motto; neon signs are truly 'LIT'. Check out a myriad of other interesting ways in which Neonlife makes the perfect neon signages, keeping them vibrantly joyful and mood-enhancing.
#3 Laying low yet sleek with concealed entrances
Got a secret doorway yet?
We are adventure-loving folks. Concealed entrances bring back memories from the series of The Adventures of Tintin. Concealed entrances give an even look to the apartment. Being seamless, this type of entrance brings a monotonous construct.
If you classify yourself as organised and someone who maintains strict to-do lists, this design might be right up your sleeve.
#4 Glass balls to bring curved minimalism
The mid-century curve is back, making it our recent obsession. Right from curved entryways to curved table ends. Curved glass balls are working their charm right over the lip-smacking chilli crab on the dining table. The clear ones give out a royal yet minimalistic look to the dining room. The one with frost cut out the glare. It works quite well for a reading room.
These are available in gold as well as brass finish, making any room stand out.
#5 Self-painted wall art
This year has been challenging for all. A lot of people have taken up to activities to rebounce, refresh and rejuvenate. You must have heard that painting is also a therapy. Abstract wall paintings are getting up on most walls of Singapore. They can help release stress as well as be the cherry for your wall, bedside or even restroom door.
They reflect your personality and are cost-effective art forms. And by the end of it, it is your work. Don't forget to sign at the bottom!
—
At Neonlife.store, we understand how décor can enhance moods and spaces. We've customised unique and wonderful neon signs for our clients across walks of life from major hotel chains to F&B outlets, homes, weddings, fitness centres, and corporate offices. We are a team of skilled designers and LED neon craftsmen that keep the craft creative and original. We ensure to keep the process hassle-free for you through a three-step process. We'll be glad to craft the perfect, relevant neon sign that caters in the best look and right mood. Feel free to reach out to the Neon Life Team at +65 90888270/ hello@neonlife.store.