Best Christmas Gifts of 2020
2020 went: January, February, quarantine, and now, the holiday season with social distancing measures is upon us. What should you get your loved ones this year? Hopefully, you've managed to get your Christmas presents during the Black Friday and Cyber Monday sales. But if you haven't, here's a list 5 gifts worth considering.
#1 Gift Cards
Giving your loved ones cold hard cash or transferring them some money is easy but it's not nearly as personable as giving them a gift card! Find out what their favourite store is and top up a gift card with a generous amount. Perhaps a Sephora gift card for your glam girlfriend or dearest mother? Or a Kinokuniya gift voucher for your fellow bookworm friends?
It's been a tough year and everyone deserves a splurge! They'll definitely be thinking of you as they are happily emptying out the value in the card. You could get a physical gift card with a cute print or an e-gift card/code. Can't go wrong with this one!
#2 Customized Neon Sign
Custom Neon Sign by NeonLife on Instagram
Décor for living spaces always make good gifts. Instead of a simple poster or little trinket for your home, studio space or office, get a customized neon sign! Nothing screams "cool" like a neon sign in a room, especially one customized to your loved ones' preference. Once associated with businesses only, neon signs are now everywhere, creating Instagram-worthy spaces. This is surely a hot favourite in 2020.
#3 Lazy Phone Holder
After months of hard work, and an entire year of working from home…Everyone deserves rest and lots of it! We're sure your loved ones are tired of sitting at their desks at home. Why not gift them a lazy phone holder so they can lie in bed and watch their favourite show? No hand muscles needed. Clip a lazy phone holder anywhere! Get them here.
#4 Framed Graphic Illustration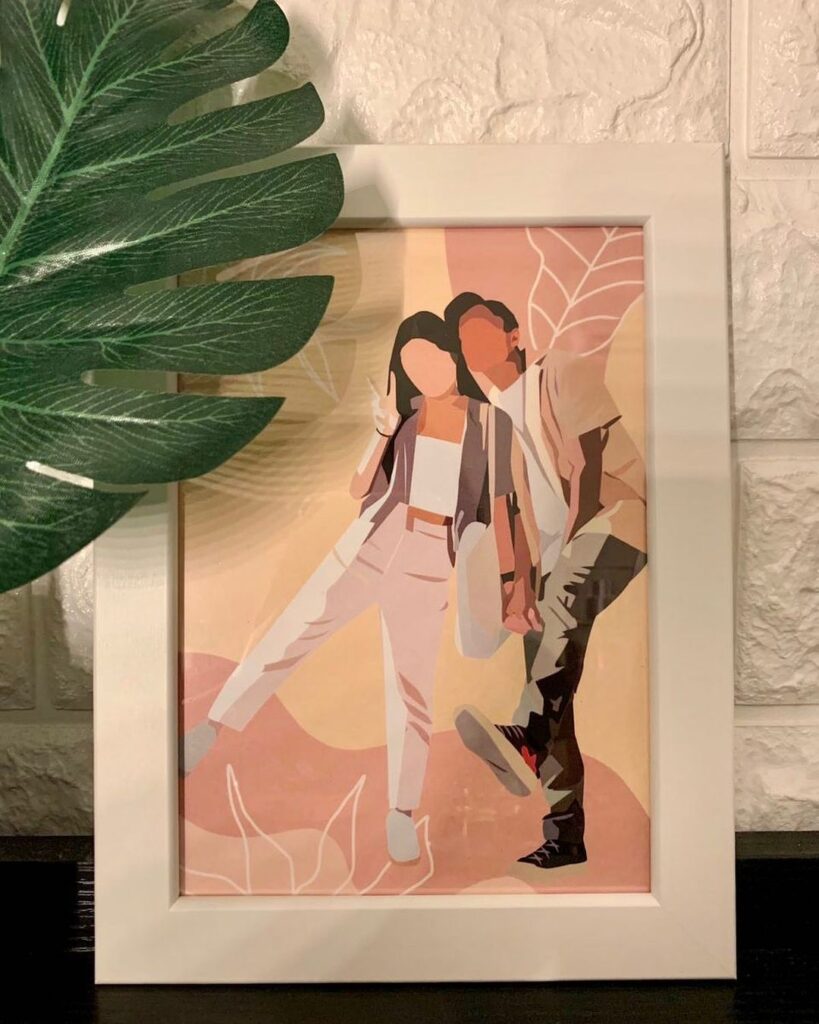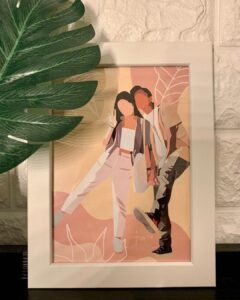 Framed Graphic Illustration by @vilyds.co on Instagram
Source: https://www.lovetoons.co/
Why let your photographs stay on your phone? Immortalize every memory in a graphic illustration, have it framed and proudly display it. Have the picture digitally illustrated in an artistic manner or turn them into their favourite cartoon as a gift to your loved ones! We would recommend @vilyds.co on Instagram or https://www.lovetoons.co/ . They would definitely appreciate such a fun and meaningful gift.
#5 Wireless Earpiece
There's something about Christmas songs that make you feel like you are sitting by a fireplace somewhere with a hot mug of cocoa, warming your hands. When in reality, you're looking out at some December rain, in hot humid weather, thanks to our close proximity to the Equator. Help your loved ones enhance the experience with an affordable yet high-quality set of wireless headphones, like the Jlab Jbuds Air. Let them go hands-free to enjoy that hot cup of Milo or kopi.
This Christmas, stay home, meet your distant relatives on Skype or Zoom and have your presents delivered. Whatever you choose to get for your loved ones, they will definitely love it so don't fret too much. There's so much to be grateful for. Have a safe Christmas and Happy Holidays!
At Neonlife.store, we understand the importance of the quality of the gifts you present to your loved ones. We've customised unique and wonderful neon signs for our clients across walks of life from major hotel chains to F&B outlets, homes, weddings, fitness centres, and corporate offices. We are a team of skilled designers and LED neon craftsmen that keep the craft creative and original. We ensure to keep the process hassle-free for you through a three-step process. We'll be glad to craft the perfect, relevant neon sign that caters in the best look and right mood. Feel free to reach out to the Neon Life Team at +65 90888270/ hello@neonlife.store.