Create a Cosy Book Nook in your Home!
The endeavour to take time out only to read, read and read describes our kind. Isn't it?
Completing a 400-page novel within a day is our superpower. We don't mind letting go of sleep. It is a dream to have that dreamy library right in your home. But for many (like me), it's impractical to fit it into our homes due to space constraints. But I constantly dream of having this book nook wherein I can escape and absorb into my novels. The good news is that it's doable quickly without spending a bomb.
The secret is a lovely mix of 3 aspects.
1. Keeping the nook as cosy as possible with minimal interference
2. Going warm on lighting through multiple sources, neon signages, etc.
3. Ensuring that the propping involves everything to enhance the reading experience: blanket, bookmarks, plants, book rack, coasters to place our coffee mug. Just about everything associated with books and crazy book lovers like me.
I've worked out easy hacks to create a cosy book nook right inside any home. After all, we – the ardent book lovers – deserve it.
#Hack 1: DIY bookshelf, storage boxes and everything to keep books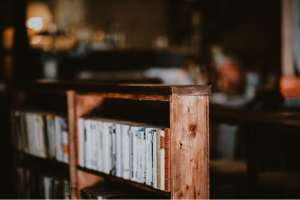 Custom-building a bookshelf by yourself is right up your alley. If you've got a number of empty crates lying around, stack them in a symmetrical or asymmetrical fashion. There you go – simply place your book collection inside!
If you're not the DIY kind, you can order cheap shoe racks (without doors) and convert these into a tall bookshelf. Opting for colours like black can help attain a minimalistic sleek look within the overall space.
If by any chance, you've got a small moveable cart, you can convert it into a moving book cart. Your 'next-in-line' books can be segregated into this.
Note: – If you have an inexplicable number of books and all just wouldn't fit into one bookshelf, then use storage boxes/ quirky laundry bags to store your fascinating collection.
#Hack 2: Neon signages to make it a rocking book-corner
Custom Neon Sign by NeonLife Store on Instagram.
One needs to play with the lighting on walls in order to bring in the vibrant vibes. Neon lights are the perfect pick to add pop and vibrancy into any space. LED neon signages ensure that your nook sparks joy, relaxation and vibrancy. It will almost feel that you travelled miles to an enchanting library to catch a good reading session.
There are unique neon signages available in Singapore. You can customise it as per your liking – be it a quote, movie dialogue, caricature or even your favourite book title. Check out a myriad of other interesting ways in which Neonlife makes the perfect neon signages, keeping them vibrantly joyful and mood-enhancing.
Hack #3: Keep your seating next to a window
You might like to sit and read on a leather chair, ottoman, couch or even a swing. That's fine. But make sure to place this seating next to a window to receive maximum natural light. It's a great feeling to have the rays fall upon the words of your book. On sunny days, the sunshine really uplifts your mood. And on rainy days, sitting by the drizzle makes it quite a cosy reading session.
#Hack 4: Accessorize your nook with simple props
There are some timeless props that are in perfect sync with book nooks- just like cheese and pizza!
Check out these simple propping ideas that will change the face of your book nook.
· Get in the greens. Plants always make it right.
· Frame pages from an old novel. These frames will give a rustic vibe to your nook.
· Hang a blackboard to note your favourite character's lines.
· A floor rug can do tons of goodness to bring in a cosy and comfortable vibe.
#Hack 5: Light it up with multiple light sources
The trick is to have multiple light sources to form definition and layers. Multiple light sources help break monotony within any space by forming layers and partitions between the wall, furniture and things around. You can hang fairy lights on the window sill, or place a table lamp beside your seating.
If gathering multiple light sources is drilling a hole in your pocket or time, then only a single floor lamp can also do great good for your nook.
If you're an art person, lighting up your artworks by placing a lamp near/ on top on your painting frame can make your book nook look as if it is right inside a French gallery!
And lastly, let's address the biggest pain-point in a reader's life – noise. None of us like any external noises to creep in when we're absorbed in our reading and fictitious world. Sound-proofing walls come at a cost (and take away a major chunk of time on your watch). Don't stress. Certain type of floor carpets help in noise reduction, heavy curtains can dampen noise to an extent and there are always the good ol' noise cancellation earphones.
At Neonlife.store, we understand how lighting can enhance moods and spaces. We've customised unique and wonderful neon signs for our clients across walks of life from major hotel chains to F&B outlets, homes, weddings, fitness centres, and corporate offices. We are a team of skilled designers and LED neon craftsmen that keep the craft creative and original. We ensure to keep the process hassle-free for you through a three-step process.
We'll be glad to craft the perfect, relevant neon sign that caters in the best look and right mood. Feel free to reach out to the Neon Life Team at +65 90888270/ hello@neonlife.store.