Neon Sign Designs for Weddings
Love neon signs and want them at your wedding? Great! But what design should you create? Neon signs have been popular at weddings for photobooths or decorative purposes. They are also perfect to bring home as a wedding keepsake… Here are some neon designs to celebrate your happy, romantic occasion!
#1 Names or Initials
Custom Neon Sign for customer's ROM ceremony, by NeonLife. Source
Custom neon for customer's wedding reception, by NeonLife. Source
A popular wedding neon sign request we receive here at Neon Life is the first names or the initials of the couple. It doesn't get any simpler or more significant than this. First names aren't very special on their own but the pair of names definitely become more unique. Apart from being a gentle reminder about who the bride and groom are, using the couple's names in a tangible item that can be kept forever and lighted up, can act as a symbol of their new phase in life.
#2 Romantic Quote
Custom neon for wedding, by NeonLife. Source
Choose a short romantic quote. It doesn't have to be a cheesy one unless you are into that… which is totally fine! We may cringe at some of the commonly used phrases about love, but they're all oh, so true, especially when you've found "the One". Get a romantic quote from a favourite poet, author or artist and get it written in neon in a nice font. The lit-up romantic quote will definitely add a splash of sweetness to the occasion.
#3 Special Word/ Quote
Custom neon sign, by NeonLife. Source
All couples have their little quirks, so custom make a neon sign with a special word or saying that has a special meaning to you. It wouldn't matter if no one else understands the sign, that's what makes it special to you as a couple. Even after the wedding, you can take the sign back home and put it up, reminding you of the precious moments you'll share from that day forth.
#4 Symbols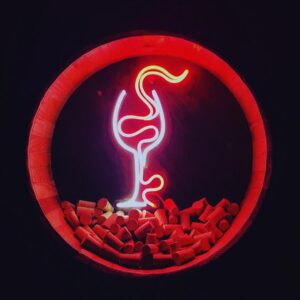 Custom neon sign, by NeonLife. Source
Similar to #4, customise a symbol to represent the special quote. It's a little bit more fun than just words but once again, it all comes down to what the couple would prefer. Making a symbol would also allow more room for creativity and different shape manipulation. Perhaps you would like it to fit a certain space in your house, to use after the wedding, like this wine glass neon we made for our customer's bar area. A small and simple symbol that represents you and your love, would do the job.
#5 Abstract Design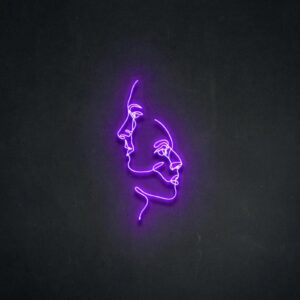 Abstract tattoos and posters have been a trend in 2020 and neon signs have joined this trend too. There are many pre-made designs symbolizing love or a significant other, to choose from but feel free to sketch up your own! Why not do an abstract design of you and your partner's face? You can use designs unrelated to love as well, whatever suits the couple and the wedding décor. Abstract designs provide a more artistic aesthetic to the event space or home, which is always pleasant to see.
At Neonlife.store, we understand how décor can enhance moods and spaces. We've customised unique and wonderful neon signs for our clients across walks of life from major hotel chains to F&B outlets, homes, weddings, fitness centres, and corporate offices. We are a team of skilled designers and LED neon craftsmen that keep the craft creative and original. We ensure to keep the process hassle-free for you through a three-step process. We'll be glad to craft the perfect, relevant neon sign that caters in the best look and right mood. Feel free to reach out to the Neon Life Team at +65 90888270/ hello@neonlife.store.