Tips to Attract Customers to your New Retail Store or F&B Outlet
Phase 2 of Singapore's reopening commenced on 19 June 2020 which allowed businesses such as F&B and Retail outlets to resume operation. Some courageous business venturers also opened up brand new stores following the reopening. However, they have found it a challenge to get visitors to their physical stores, with social distancing and the convenience of pure online shopping. Here are some tips to get customers to patronize your new retail store or F&B outlets.
#1 Have a Digital Presence
Neon Life's Instagram page
Neon Life's website
Modern-day consumers rely on the Internet for almost everything under the sun. With that, they expect brands to have some sort of digital presence, be it a website, a social media page or even better, both. According to the Digital Media Institute, about 30% of consumers prefer to engage with brands through digital channels. By being visible to and reaching out to these consumers through online platforms, you not only increase brand exposure but you may get them to visit your physical store. For example, you may offer a "click-and-collect" service, which simply means to purchase something online and collect it in-store. To further encourage them to do so, you can offer a discount because they opted for self-collection in store.
#2 Increase Curb Appeal with Attractive Storefront
Custom Neon Sign for Birds of a Feather restaurant in Singapore, by Neon Life
If someone's walking past a row of shops in a mall or on the street, you want to make sure that something about the look of your store draws them in. For retail outlets, you may want to ensure you have an appealing window display of the trendiest clothes or the most popular items. For F&B outlets, you may want to place pictures or models of the food that look too appetizing to resist. Neon signs or other aesthetic signages also make for good attention-grabbing décor. These signs may also improve organic leads. Patrons may snap a picture with it and post on their personal social media pages, allowing their followers to know about the store. Staff are also part of an "attractive" storefront. They should be welcoming and friendly, spreading the good vibes of your store.
#3 Pleasant Store Interior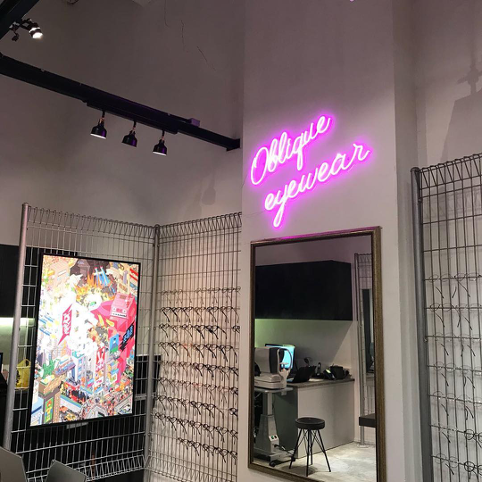 Custom Neon Sign for Oblique Eyewear in Singapore, by Neon Life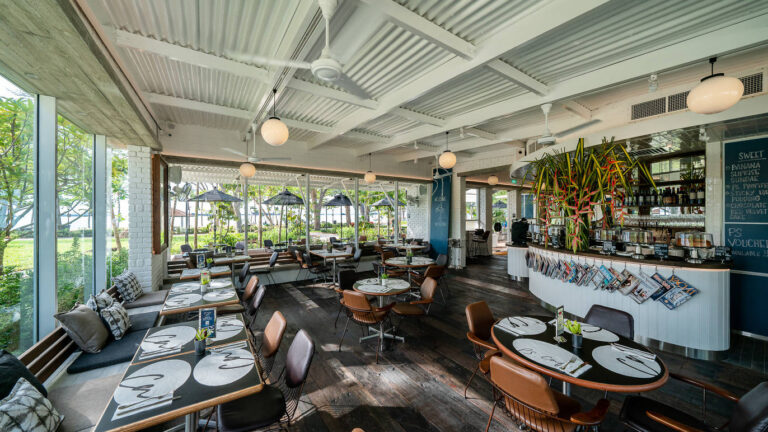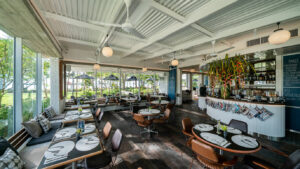 P.S. Café, East Coast Park, Singapore, interior
Once you've got a good-looking storefront and passersby are intrigued, they have to want to come in! Display your products in a way that it won't look cluttered and customers will be comfortable walking around, browsing through. On top of that, focus your efforts on the interior décor as well. Put an iconic neon sign in the store that people can take pictures of or with. Make sure the colours and textures of your furniture complement each other and provide a classy or homey feel, whichever suits your retail or F&B outlet. A nice, clean environment would definitely entice patrons to visit your store and spend a little bit more hanging out there.
#4 Offer Deals
Ongoing deal at Stirling Steaks, posted by Shout.sg
There is no better way to catch the attention of locals, or any other money-spending enthusiast than promoting good deals! Make use of your online platforms for your temporary deals or invest in printing out posters and placing it in stores, for promotions that have a longer duration. You can explore mechanics such as "screenshot this post and show it to us when you dine-in for 10% off" or have it the other way around, i.e. "post a story of our store and get 10% off your next item". This way, you'll be able to increase foot traffic in your store.
#5 Create a Loyalty Program
Project Acai's Loyalty Program
A study by Technology Advice revealed that 80% of their surveyed respondents are more likely to patronize stores that offered some kind of loyalty program. The main reason for consumers wanting to join these loyalty programs is to save some money. This loyalty program also encourages these consumers to keep coming back to your store because the more they spend there, they will be able to accumulate points that will turn into rewards! It could be a free drink, dessert, accessories, experiences or anything your store can offer. For newer stores, you may want to create an even more special loyalty program for the first few hundred registrants of the program and include mechanics such as friend referrals.
At Neonlife.store, we understand how décor can enhance moods and spaces. We've customised unique and wonderful neon signs for our clients across walks of life from major hotel chains to F&B outlets, homes, weddings, fitness centres, and corporate offices. We are a team of skilled designers and LED neon craftsmen that keep the craft creative and original. We ensure to keep the process hassle-free for you through a three-step process. We'll be glad to craft the perfect, relevant neon sign that caters in the best look and right mood. Feel free to reach out to the Neon Life Team at +65 90888270/ hello@neonlife.store.